Uncommon Leadership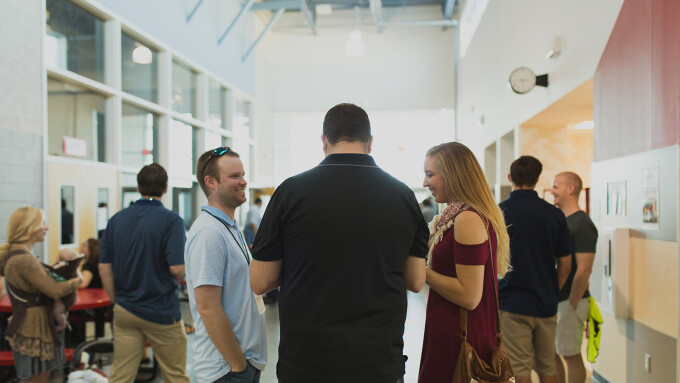 Uncommon Leadership
1 Thessalonians 2:9-12
All of us can most likely recall to mind examples of great leaders and poor leaders. Maybe you worked for one of them, had a friend who worked for one of them, or you just read about their accomplishments...or failures. You know the now famous adage by John Maxwell, "Everything rises and falls on leadership." Great leaders are uncommon because they do the things that nobody else is willing to do and get great people to join them.
As Christians we take our cues from the Bible. As Christian business leaders we take our cues from the Bible too. First Thessalonians 2:9-12 shows us what uncommon leadership looks like.
9 For you remember, brothers, our labor and toil: we worked night and day, that we might not be a burden to any of you, while we proclaimed to you the gospel of God. 10 You are witnesses, and God also, how holy and righteous and blameless was our conduct toward you believers. 11 For you know how, like a father with his children, 12 we exhorted each one of you and encouraged you and charged you to walk in a manner worthy of God, who calls you into his own kingdom and glory.
Uncommon Leadership is People Work.
Round the clock, hard work too. Uncommon leaders don't just get to sit in an office and tell people what to do. They work hard, laboring and toiling, at the task and responsibility God has given to them so as not to be a burden to those that work for or follow them. Leaders worth following get this.
What is all to common is hucksters employing flattery and deception to use people for greed and personal gain. People are just disposable resources to use and move on from, is the mentality. How can they benefit me? What do they have that I can take? Common leaders burden people either through their own laziness or over-working.
Uncommon leaders have a heart for the people they work with that is born out of the gospel. Christ was a servant leader, caring for the needs of his people and leading them into newness of life. The Apostle Paul was an uncommon leader working hard so that the good news he was preaching about would not be hindered by a lazy life and his work discarded as another get-rich-quick scheme. We work hard with the Lord and people in mind, not fame and dollar signs.
Uncommon Leadership is about Character.
Character counts. In the end it does not matter what results you have produced and achievements you have accomplished. All over the scriptures character is upheld as highest priority that qualifies a man or woman to lead. Very little is said about competence.
We can too easily sweep fatal character flaws of leaders under the rug when they are producing massive results. They get the job done ahead of schedule and under budget but were angry and demanding. Sales goals were blown out of the water this quarter yet all the while slandering the competition. Is that really success?
Uncommon leaders who follow the Lord are marked by holiness, righteousness, and blamelessness. Humility and integrity are defining traits. No one is skeptical of their motives or questions them of wrongdoing. They have a reputation of being honest, consistent, morally upright, and above reproach. Business deals can be done openly because there is nothing to hide. Uncommon leadership is about faithfulness more than function, philosophy, or fruit.
Uncommon leaders ask these four questions regularly of their spouse, close business associates, or friends and are not afraid of the answers.
Do you observe in me…
Consistent behavior? Am I the same in every context (work, home, church, etc.) you see me?

Questionable conduct?

Improper speech? Do I speak honorably of my spouse, others, the Lord?

Growth in godliness? Is there an ongoing noticeable change in my love for Christ and others?
Uncommon Leadership is Movement.
Fatherhood is God's training ground for leadership for men. A father's job is to grow and mature his children. He is to move his children from infancy to adulthood equipping them with the understanding and resources they need to succeed in life. Father's intentionally invest in their children. It is grievous when fathers either abandon this responsibility through neglect or injure this responsibility through pampering.
This parallels leadership. Uncommon leaders understand that if we stop or stagnate then death is around the corner. We never arrive so we always keep growing and moving. We are not called to a lazy-boy life but to walk in a manner worthy of God. Uncommon leaders exhort or come alongside others equipping them with the tools necessary for success. Uncommon leaders encourage others. They are tender and kind not rough and insensitive. Uncommon leaders charge or motivate others to keep walking. At any moment an uncommon leader is a guide, a counselor, or a coach.
Uncommon leadership is about moving people from where they are towards Christ. Another word for this is discipleship. Thus uncommon leaders intentionally invest in other for their spiritual good. They are not content with the status quo or the present state of affairs but with holy ambition press ahead for God's glory.
What type of leader are you? Are you a common leader whose work burdens others with by your laziness or over-working, cuts corners, skims off the top, gets ahead through manipulation, and rules like a cold-hearted authority out for personal gain? Or are you an uncommon leader working hard, living a life of integrity for the spiritual good of others? May we be men and women seeking to be faithful to the Lord and leading our homes, business, and city for His glory and not our own.