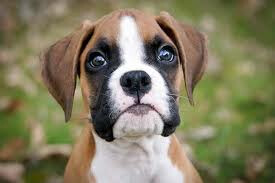 My father-in-law is a great story-teller. He is not the tall-tale type where the fish grows 6 inches each time the story is told but has some fantastic stories from his childhood in rural Alabama and his adventures as an adult. Awhile back we happened to be discussing dog training techniques, the changing times of dog ownership, and socially acceptable practices of restraining canine territorial instincts. Of course he had a story.
The story went something like this:
When Tom was around 10 years old his family had a boxer dog named Hobo. In those days (a half century ago) folks let their dogs run loose. There were no kennels. Dogs had the freedom to run at will but would always come home to where they were fed, watered, and loved. Tom's family even let Hobo in the house. Sometimes Hobo would be gone for a day or two but he always came home, until one day, a strange female dog came into the neighborhood. She was "in heat" and this caught the attention of all the other neighborhood dogs. Tom and his siblings affectionately called her, "Hobo's wife". After "Hobo's wife" came around Hobo disappeared for several weeks, so one morning Tom's dad tasked Tom and his older brother John with the adventure of searching for Hobo. Taking up their .22 rifle they searched high and low until they found Hobo and the pack of dogs. Hobo was emaciated with battle scars all over his body. He was killing himself being away from home. Though bloodied, starved and weary as he was, Hobo refused to come home with the boys and leave the pack. Wise beyond his years, Tom's brother took the .22 and shot "Hobo's wife", sending the rest of the dogs into a canine frenzy, howling and yelping at their great loss. Once this mortification of the problem took place, the boys were able to drag their beloved Hobo back home to the safety, provision, and love that was offered there.
His story, unbeknownst to him, came as I was studying Romans 8:12-13, which read:
So then, brothers, we are debtors, not to the flesh, to live according to the flesh. For if you live according to the flesh you will die, but if by the Spirit you put to death the deeds of the body, you will live.
Hobo's story is a poignant illustration of our obligation to be killing sin in our life. John Piper says "Kill sin or sin will kill you". I think you can see the parallel. As children of God we are indwelt by His Holy Spirit and therefore, have an obligation as believers to be killing the sin that remains in our flesh that wages war against us, distracting us from godly living and leading us into lesser things that lead to death.
Hobo had a loving home that provided for all his needs. He was secure with no fear of being cast out. He was well fed. He had shelter. He had several kids to play with. Temptation arose and forgetting whose he was and what he had, off he went. Had he stayed with that pack of dogs it most likely would have ended in his death. Extreme measures had to be taken to eradicate the sin and temptation so that he could return to the place where he was loved and cared for.
Is there sin that needs to be killed in your life? Don't think that by sheer willpower that it will happen. Sitting around waiting for some supernatural, miraculous intervention isn't likely to happen either. Rather, if by the Spirit you are putting to death the deeds of body happens when we wield the Sword of the Spirit, that is the Word of God, (Ephesians 6:17) and have faith in the truth (2 Thessalonians 2:13) do we then flee immorality (1 Corinthians 6:18). Praise the Lord we have tremendous help in two friends to come alongside in the battle: the Holy Spirit and the Word of God. Like Tom and John, our two friends kill sin and drag us back home to safety.
Sin is a grievous enemy and requires drastic measures to defeat it: namely death. Only by putting sin to death will victory happen and freedom be achieved.